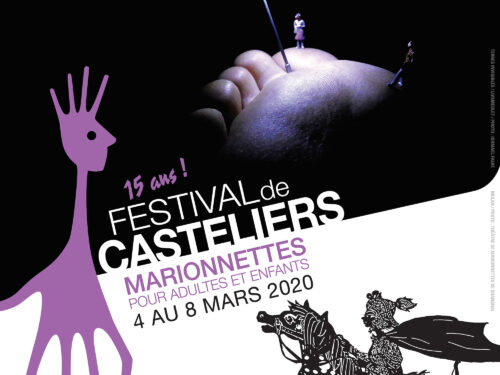 Casteliers Celebrates the 11th Art
From Traditional to Contemporary! 
Marking Festival de Casteliers' 15th Anniversary!
Montréal, January 23, 2020 ─ Casteliers has launched its program for the 15th Festival de Casteliers, an exciting international event devoted to puppetry arts, to be held from March 4 to 8, 2020. For this anniversary edition, the Festival de Casteliers will host prestigious companies from China, Greece, Finland, Belgium, England and France, as well as puppeteers from Vancouver and Québec. This year's line-up includes: ten shows for adults and children, critically acclaimed works and new creations waiting to be discovered. The festival will also include two special evenings: one devoted to short puppetry pieces and another to stop-motion animated short films.
Program available here: festival.casteliers.ca
To mark this 15th anniversary, this year's Festival de Casteliers will feature two shows that will take festival-goers on a journey from ancient Chinese shadow theatre to a very contemporary visual theatre that combines puppetry and digital arts. Kicking off the festival will be Shanghai Puppet Theatre's adaptation of the traditional tale Mulan. Presented for the first time in Canada, this spectacular production combines puppet theatre with majestic projections on a giant screen. The show for family audiences 5 years of age and over will be presented three times at Théâtre Outremont.
Closing the festival on a resolutely contemporary note, LoveStar, Théâtre Incliné's (Laval) most recent creation, coproduced with Théâtre de la Petite Marée (Bonaventure), will enchant audiences 8 years of age and older with this futuristic, dystopic story of love, loosely based on Icelandic writer Andri Snær Magnason's novel of the same name. After first being presented in 2018 as part of Festival de Casteliers' Café-causerie — Budding creations! event, the complete show comes to Théâtre Outremont's main stage just in time for Casteliers' 15th anniversary.
Adults and teenagers won't be disappointed by this year's offering either. They will be treated to three Canadian premieres that reinvent contemporary puppetry by playing with matter and the human body or the digital arts to recount mythical, philosophical tales or stories based on world events.
Anywhere, brought to us by Théâtre de l'Entrouvert (France), tells the story of Oedipus' inner metamorphosis as his daughter, Antigone, watches and interacts with an ice puppet that gradually turns into water, then disappears into mist. A visual poem for audiences 12 years of age and over.
Invisible Lands, a show for audiences 13 years of age and older, comes to us from Livsmedlet (Finland). It questions the way today's media report on the desperate situation faced by many migrants by playing with scale between the micro and the macro. Using their bodies as a landscape for miniature figures, they tell the story of a perilous journey into exile.
Finally, Occa de l'anima, loosely based on the worlds of Samuel Beckett and Mexican writer Oscar de la Borbolla, plays with distortion, as a body is altered, then rebuilt. In the process, we see our family ties in a new light. The show by Zona de títeres (Mexico-Montréal) combines puppetry, singing, electroacoustic music and live video in a scenographic device called a "videocastel (for audiences 15  years +).
Casteliers will also showcase shows for the whole family, including Kazu dans la nuit, the long version of the short piece performed at the 2019 Festival de Casteliers, which won festival-goers' hearts. Founder of the Singe Diesel company (France), Juan Perez Escala invites us into his studio to tell us his Kazus, poems that combine visual imagery, puppetry and music (all audiences, 8 years +).
The Hop Signor company comes to us from Greece for its first Canadian tour, presenting Giraffe, the endearing story of a money box that comes alive in the minds of its different owners. This show without words has been critically acclaimed wherever it has been performed (all audiences, 5 years +).
Audiences will then be invited to hop aboard Ubus Théâtre's (Québec) travelling theatre to discover the tale of a pianist for whom music has suddenly gone silent. Le Piano à Voile unfolds like a film musical or a visual symphony filled with puppets, shadows and emotions (all audiences, 7 years +).
High Water, by Macromatter (Vancouver), is a wonderful example of the ingenuity of object theatre. This experimental and flamboyant performance will mesmerize children 5 years of age and older as well as adults. As water slowly fills a fish tank, objects appear and the tank becomes an epic record of historic civilizations masquerading as a cheap party trick.
For the first time, the Festival de Casteliers is including an interactive show designed to spark the imagination of babies and toddlers (3 months to 3 years) and encourage them to explore. With CABAN, Théâtre de Spiegel (Belgium) offers a cozy play area filled with imaginary places where musicians play and sing, going in and out, on top of and underneath the play structures. A unique, not-to-be-missed parent-child experience!
In addition to these full-length shows, festival-goers 10 years of age and over can also attend an evening of short pieces, featuring three little gems: Graceland by the Tables Tournantes collective (Montréal), Las Meninas by Dotted Line Theatre (England) and Hamster by Singe Diesel (France). Literature, art history and rock'n'roll are in store for this wacky, laughter-filled evening where many myths and legends get deconstructed.
Film and puppetry fans alike will be thrilled by Animations transatlantiques, showcasing some of the best stop-motion animated short films from Québec and Scotland, presented in partnership with the Festival Stop Motion Montréal and the Edinburgh Short Film Festival (for adults and teen audiences, 13 years +).
Puppetry has been addressing universal themes for thousands of years with great sensitivity and in ways unparalleled by any other art form: from the Oedipus myth to impossible love, from a tale of warriors to the migration crisis, from the nobility depicted in Las Meninas to the decadence of Elvis… Puppets continue to fascinate and amaze us – whether they are body or string puppets, made of foam, fabric or even ice; whether they are shadows, objects or miniature figures; whether they come to life on screen or in an aquarium; whether they are real or virtual. This year's anniversary edition of Festival de Casteliers is a true celebration of the 11th art, showcasing puppetry in its many forms, in both small and large venues across Montréal, to the delight of the very young and the young at heart!
Other Activities:
Once again, Festival de Casteliers puppets will take the Outremont borough by storm beginning February 10 with the launch of the 9th edition of the much-awaited walkabout exhibition Marionnettes en vitrines! This year's exhibit, showcasing puppets from Louis Bergeron and his company Les Marionnettes du bout du monde based in Québec City, will be displayed in some thirty shop windows and at the Théâtre Outremont. Festivities will continue beyond spring break with La rue des rêveries, an exhibit of articulated puppets by Lucie Émard at the Galerie d'Outremont from March 5 to March 29.
On top of this great line-up of shows, this year's festival will also feature a café-causerie, an international roundtable discussion on puppet theatre festivals (Du Sud au Nord en passant par l'Empire du Milieu), professional networking events, workshops for children and a presentation by the Québec-Scotland creative cross-residency artists Flavia Hevia and Gavin Glover. Some thirty international presenters from around the world are expected to attend the festival.
Partners:
Festival de Casteliers is pleased to collaborate with first-time partners Le Vivier, Le Gesù, Hexagram-UQAM, the Galerie d'Outremont, Festival Stop Motion Montréal and the Edinburgh Short Film Festival, as well as with its long-standing partners: Théâtre Outremont, the OBORO artistic centre, Théâtre Aux Écuries, the Commission scolaire Marguerite-Bourgeoys, the Québec Puppeteer Association (Association québécoise des marionnettistes—AQM) and UNIMA-Canada (the international association of puppeteers). And let's not forget the 7th OUF! Off-Casteliers festival that will be in full swing at the Pavillon Saint-Viateur, also known as the festival-goers headquarters!
Desjardins' participation as the 15th Festival de Casteliers' Official Presenter is made possible thanks to the Caisse des Versants du mont Royal and the Caisse de la Culture. Casteliers would also like to thank Realta, Holiday Inn Montreal Downtown, the French Consulate General in Québec City, the Institut Français, the Consulate General of the People's Republic of China in Montréal and the Confucius Institute for their generous support.
Casteliers is cofounder of the Maison internationale des arts de la marionnette (MIAM), a new landmark promoting the 11th art in Outremont.
Complete festival program available:
Théâtre Outremont box office: 514-495-9944, ext.1,
Online or at the Théâtre Outremont: theatreoutremont.ca