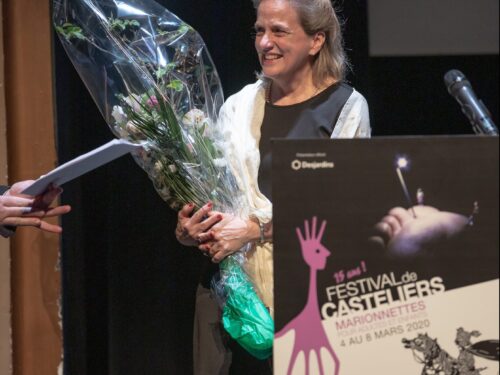 From March 4 to 8, 2020, puppetry blazed brightly in Montréal. The 15th edition of Festival de Casteliers broke attendance records once again and brought together a large audience of both young and old with 30 performances and numerous parallel activities and exhibitions.
The video projection of Mulan, presented in solidarity with the Shanghai Puppet Theater, whose team unfortunately was unable to travel here, celebrated the thousand-year-old tradition of shadow puppetry combined with digital animation.
Opening night was also the occasion to highlight the exceptional career of André Laliberté, artistic director of Théâtre de l'Œil, and to celebrate Casteliers' 15th anniversary and the dedication of Louise Lapointe, its founder, artistic director and co-director general.
Ten shows from France, Greece, Belgium, Finland, the United Kingdom, Mexico, Canada and Québec offered a magnificent portrait of contemporary puppetry, with performances that ranged from the very classic to the very unconventional. Whether a warrior tale, a futurist dystopia or a story of migrant crisis, the Festival de Casteliers' programming showcased once again the infinite richness and diversity of the themes, techniques and forms of puppetry arts.
Festival de Casteliers is also a key moment for bringing together members of the profession, with its proliferation of get-togethers, exchanges and collaborations between presenters and artists, from here and abroad, all united to celebrate the 11th art. This year, a delegation of 35 presenters from around the world took part in the festival and was witness to the dynamism of the puppetry milieu in Québec. The Pavillon Saint-Viateur was pulsating once again with the energy of the new and up-and-coming generation of artists and of the OUF! Off-Festival de Casteliers all week long.
Casteliers extends its heartfelt thanks to the puppeteers, technical teams, partners and sponsors, volunteers and all the spectators who contributed to the festival's success.
Casteliers would also like to thank the Canadian and Québec governments, the City of Montréal, the Outremont borough, as well as the French Consulate General in Québec City, the Mexican Consulate General in Montréal, the Consulate General of the People's Republic of China in Montréal, the Confucius Institute in Québec, Realta and the Holiday Inn Montréal Downtown for their precious support.
Casteliers also wishes to thank Desjardins, whose participation as the 15th Festival de Casteliers' Official Presenter is made possible thanks to the Caisse des Versants du mont Royal and the Caisse de la Culture.
As we turn the page on this exceptional edition, Casteliers is looking ahead to the
16th Festival de Casteliers from March 3rd to 7th, 2021! Looking forward to seeing you there!