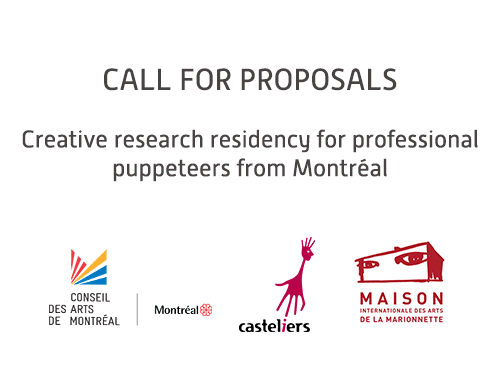 Deadline for applications: Monday, September 28, 2020
With the goal of developing puppetry and in the context of the COVID-19, Casteliers and the Montreal Arts Council (Conseil des arts de Montréal-CAM) are partnering to offer two (2) creative residency for professional puppeteers.
The residencies will each last for twenty-one (21) days. They will take place at the Maison Internationale des arts de la marionnette (MIAM) between October 2020 and February 2021.
The residencies were developed based on the following objectives:
offer puppeteers in residence time to work and rehearse on a show being created, whether they are at the beginning, in the middle or at the end of their process;
give access to MIAM's specialized spaces, equipment and resources;
support the creation of the Montreal puppetry community.
One of the two residencies will be reserved for a project by artists from the diversity: racialized / visible minorities, ethnocultural minorities, English speakers in a minority situation, or allophones.
Information
direction@casteliers.ca
Download the call for proposal