Monday,
August 6, 2018
10:30 a.m.
Parc Toussaint-Louverture See the map
Wednesday,
August 8, 2018
10:30 a.m.
Parc Howard See the map
Wednesday,
August 15, 2018
10:30 a.m.
Parc François-Perrault See the map
Saturday,
August 25, 2018
10:30 a.m.
Parc De Normanville See the map
Saturday,
August 25, 2018
2 p.m.
Amis de la montagne (Lac aux Castors) See the map
Sunday,
August 26, 2018
11 a.m.
Parc Saint-Viateur See the map
Sunday,
August 26, 2018
2 p.m.
Parc Saint-Viateur See the map
Photos

Photo: Patrice Tremblay
Casteliers sur l'herbe
L'os de bois, Théâtre de marionnettes (Québec) & Le bruit de l'herbe qui pousse (France)
All audiences, 4 years +
Free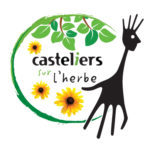 SCRIIIBOUILLIS
A little girl plays and experiments with everything she finds. She's four years old, curious and full of ideas! She discovers that one of her chalkboard drawings has come to life. She then draws a more sophisticated creature she can play with… but the creature is terribly greedy! A battle between the little girl and her alter ego ensues. In the end, everything before our eyes is straight out of the little girl's imagination and she can erase anything and everything she has created … including the audience!
Techniques: Mixed
Without words
Running Time: 25 minutes
Company
Marie Julie Peters-Desteract (Le bruit de l'herbe qui pousse – France)and Noémi Bélanger (L'os de bois, Théâtre de marionnettes – Québec) are two graduates of the DESS program at UQAM'S École supérieure de théâtre (gaduate studies in contemporary puppet theatre). ScriiibouilliS is their first collaboration, a full-length version of a short piece created as part of their thesis work.
Credits
Designed, built and performed by: Marie Julie Peters-Desteract and Noémi Bélanger