Wednesday,
November 28, 2018
8 p.m.
Thursday,
November 29, 2018
8 p.m.
Friday,
November 30, 2018
8 p.m.
Théâtre Aux Écuries
7285 Chabot Street
Montréal (Québec) H2E 2K7
Phone : 514-328-7437
See the map
Photos
Photo: Elvis Alatac
Les soirées Casteliers
Elvis Alatac (France)
Adult audience, 13 years +
A: $28 R: $25 S: $22
A: adults | R: discount | S: students *
* Discount details: Cultural worker | 30 years or younger | 60 years or older | Member of FADOQ, RAIQ or AQM | Accès Montréal card holder | Valid ID required. Student price: $22
Taxes and ticket processing fee included.
Casteliers, in collaboration with Théâtre Aux Écuries, presents Première Neige.
Première Neige is an adaptation of a short story by Guy de Maupassant. It is about a young woman who prefers to die alone and happy under the sun rather than live a long life, unloved by her husband, in a horrible castle in Normandy. Despite the dreadful situation, it is also a story full of hope.
Maupassant's short is told here by a couple who, after hearing news of a tragic event, decide to hunker down in their home and turn their living room into a radio studio. There, they create a sound and light show on their kitchen table, using bits and pieces and pretty much anything they can get their hands on. At some point along the way, the French writer's dramatic tale and the couple's story merge into one.
This intimate, DIY, zany and very clever show is a feast for the eyes and an ode to unbridled optimism. Première Neige has enjoyed remarkable success in France since it premiered in 2017.
« Maupassant meets Monty Python »
— KaragöZ, Off-Off Festival mondial des théâtres de marionnettes (France) daily newspaper, September 2017
RUNNING TIME: 65 minutes
TECHNIQUE: Object Theatre
---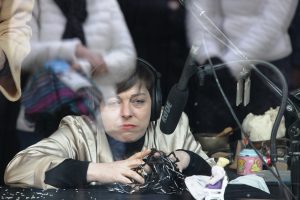 And you wouldn't want to miss Petite Neige – a perfect complement to Première Neige
Performed in the Théâtre Outremont front window on November 27, 2018, at 12 p.m.
Never one to miss an opportunity, Casteliers is pleased to announce that Elvis Alatac will perform its short piece Petite Neige while in Montréal. Petite Neige premiered in 2014, and led to the creation of Première Neige.
Details: here
RUNNING TIME: 12 minutes
TECHNIQUE: Object Theatre
Video
Company
Elvis Alatac was founded in 2012 by actor and stage director Pier Porcheron. The company is part of the broad object theatre movement. It places the actor at the centre of the creative process: actor as creator, actor as decorator, and actor as stage director of their own tragicomedy. Elvis Alatac takes classics by Shakespeare and Maupassant, kneads them into a whole new shape, makes them their own, and laughs along with the audience at the great authors' grandiose and terrifying tales. The company's creative approach focuses on the object as partner, instrument and stage prop all at the same time.
Pier Porcheron worked previously in Québec with Ubus Théâtre on the show Ernest T. He also worked with Francis Monty, co-director of Théâtre de la Pire Espèce, on his first show, Il y a quelque chose de pourri, which has been critically acclaimed in France since 2014.
Credits
Production: Elvis Alatac and JR Company
Stage Direction and Original Idea: Pier Porcheron and Maïa Commère, adapted from a short story by Guy de Maupassant
Performance: Marion Lubat and Pier Porcheron
Drama Advisor: Christian Caro
Music and LIve-to-Air Broadcast: Romain Berce and Josselin Arhiman, alternately
Co-Presenters: Théâtre Aux Écuries and Casteliers
With support from the Service de coopération et d'action culturelle du Consulat général de France à Québec