Thursday,
August 9, 2018
10:30 a.m.
Parc De Normanville See the map
Friday,
August 10, 2018
10:30 a.m.
Parc Howard See the map
Saturday,
August 11, 2018
10:30 a.m.
Parc François-Perrault See the map
Saturday,
August 11, 2018
2 p.m.
Amis de la montagne (Lac aux Castors) See the map
Sunday,
August 12, 2018
11 a.m.
Parc Saint-Viateur See the map
Sunday,
August 12, 2018
2 p.m.
Parc Saint-Viateur See the map
Monday,
August 13, 2018
10:30 a.m.
Parc Toussaint-Louverture See the map
Photos
Photo: Marie-Pierre Simard
Casteliers sur l'herbe
Marie-Pierre Simard (Montréal)
All audiences, 4 years +
Free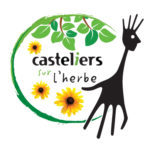 LES SOUVENIRS DU SABLE
Alma returns to the Magdalen Islands for the holidays. Little kitty Philomène's delicate whiskers aren't the only ones expecting her. There's Aunt Fabie and Uncle Harry's hen Olga, with her mood swings, as well as others. A gust of wind still blows within Alma's heart; a storm of memories left upon the sand… and then there are the stars that chase the darkness away.
Techiniques: Mixed
Running Time: 25 minutes
Company
Marie-Pierre Simard fell in love with puppets over 20 years ago. This universal and timeless art was the obvious answer to her longing to create. From the drawing board to the stage, she explores puppetry with a passion and with a skillful approach to line, volume, colour, movement and performance.
Credits
Literary Work: Marie-Andrée Arsenault
Adaptation for the Theatre: Julie-Anne Ranger-Beauregard
Outside Eye: Simon Boudreault
Music: François Monette
Stage Direction, Scenography, Puppets and Performance: Marie-Pierre Simard